~ ~ ~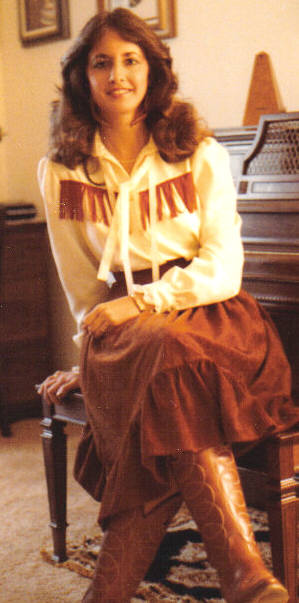 ~ ~ ~ Glay~Marie ~ ~ ~

...a 6th Generation Texan! ~ "...with a crystal-bright soprano" (Houston Chronicle '99)...
...has been performing in public since the age of nine - her "professional" career began at age fourteen, playing (piano) and singing for weddings. She and her husband, "The Posch Duo", were initially billed as "John Posch & Glay Marie", and began their entertainment career with Adams and Green Talent Agency in Houston, Texas. After their marriage, and relocation to Maryland, the piano/bass duo established their presence in the Baltimore area through Starleigh Entertainment Agency, having the awesome experience of playing at Cal Ripken, Jr.'s wedding reception.
An exceptionally versatile musician, GlayMarie enjoys singng a variety of musical styles which she incorporates into all of her music and finds herself particularly inspired in the children's music arena where she is known as The Lone Star Ladybug ! GlayMarie says of her experiences - "There's a unique fulfillment in performing for children - their innocent and unpretentious nature, the gleam and eagerness in their eyes. You can always see in their eyes just how well you're entertaining them, especially when it's time for audience participation!"
Having first narrated for the Houston Independent School District at age 16, even earlier GlayMarie was scribbling poetry and composing music and plays. Glay Marie holds a BM in Vocal Performance from Univiversity of Houston Moores School of Music and received her Master of Music from Stephen F. Austin State University. For three consecutive years she reigned as leading lady for the internationally acclaimed Houston Gilbert & Sullivan Opera Company and most recently with CyFair College Lyric Opera and The Gilbert & Sullivan Society of Austin. She has appeared as a solo artist with Fort Bend Symphony Orchestra, Brazosport Symphony Orchestra, Mesquite Symphony Orchestra, Symphony North of Houston, and in various venues throughout her hometown with some of Houston's finest musicians. She is also a member of Pi Kappa Lambda Music Honor Society, The Society of Children's Book Writers and Illustrators, The National Piano Guild Society, American College of Musicians, and the American Choral Directors' Society. GlayMarie currently is on faculty at Lone Star College - Tomball and maintains a private studio of select voice and piano students.
---
Since 1990 Glay Marie has been soloist for Berachah Church, Houston, TX.
If you wish to inquire about GlayMarie's Simply Sacred or the NEW Unfailing Love CD, please write us at:
~ ~ ~ ~ ~ ~ ~ ~ ~ ~ ~ ~ ~ ~ ~ ~ ~ ~ ~ ~ ~ ~ ~